New Patients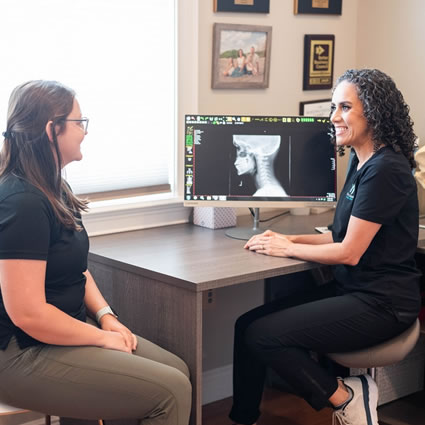 Christie Chiropractic invites you to a warm, welcoming practice that is dedicated to natural healing and wellness. We believe that all people can benefit from chiropractic care. From infants to elderly adults – our practice is home to a diverse patient community. Our modern and clean practice was designed to promote feelings of relaxation and comfort while under our care.
We want your chiropractic experience to be as memorable as possible! You deserve to leave our practice feeling confident and healthy.
New Patients Welcome
Becoming a patient with us is simple and straightforward. In just one visit, you can be on your way to increased health!
Your first appointment will be about one hour in duration, beginning with a one-on-one discussion with Dr. Christie regarding your health history, current condition, and health goals. Shortly thereafter, she will perform a non-invasive examination to help us better understand your needs. In-house digital X-rays will be taken if necessary. All intake paperwork can be completed prior to this visit. At the end of your appointment, most patients will receive your first chiropractic adjustment.
Ongoing Care
Unlike your first visit, your second appointment will take about 30 minutes from start to finish. During this time, Dr. Christie will go over your X-rays and discuss her recommendations of care based on your individual needs. Be sure to communicate any questions or concerns you might have regarding your upcoming plan of care.
Once you are no longer in the acute phase of care, we will decrease the frequency of your visits and establish a home care routine. Ongoing appointments will last between last between 10 to 20 minutes depending on your needs.
Why Wait to Get Started?
If you are new to chiropractic care, we understand the nerves you may be experiencing. Christie Chiropractic is here to assure you that you are you are in good hands! Our practice caters each adjustment not only to your needs, but also to your comfort level.
Why wait to take advantage of safe, natural health care? We are ready for you when you are ready for us!
CONTACT US »

New Patients | (321) 339-8876