Sports Chiropractic in Melbourne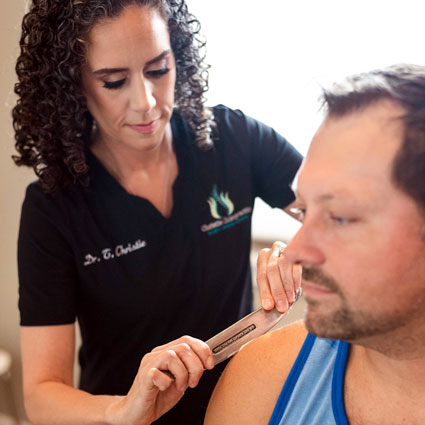 Athletes are some of our most common patients. Always striving to perform at the top of their game, they put their bodies through the wringer. Whether you play football, soccer, baseball or participate in dance or gymnastics – we understand your need to move to the best of your ability.
Along with general chiropractic care, Christie Chiropractic also provides relief and maintenance care to athletes of all ages and backgrounds. Learn more about what we can do for you!
How May Chiropractic Help You?
No athlete wants to feel restricted. Most come to us as a result of symptoms that are affecting their performance on the field. Rather than getting hurt and looking for a way to fix the problem at hand, athletes would benefit more from regular visits to the chiropractor to prevent their injuries from ever occurring. We can provide the care you need no matter what your goals may be.
Get to Know Our Caring Chiropractor
We want to unlock your innermost athletic potential. Certified Chiropractic Sports Physician® (CCSP®) Dr. Christie does this by focusing on your spinal health and restoring range of motion to your body with specific adjustments. Our practice uses several different techniques to renew the health of sports-oriented patients, including:
Active Release Technique (ART)
Graston Technique
Kinesio® Taping
Cold laser therapy
Common Ailments
Our practice has seen many athletic patients. Of the conditions we have cared for, the most common ones are shoulder pain, knee pain, and low back pain. Both Graston Technique and Erchonia cold laser therapy can help athletes heal quickly and achieve lasting health. No matter what your concern may be, we'll evaluate it and give you our best recommendations on how to proceed.
Even if we don't think that we can help you, we'll refer you to another specialist. We want to be sure that you get the assistance you require to address your problems whether or not it is with our office.
Your Frequency of Care
After a thorough new patient examination and diagnostic X-rays if necessary, Dr. Christie will determine what frequency of care is right for you based off of your history and exam findings. Around the tenth visit, we will perform an updated examination to determine your progress and decide how to best proceed with care. We'll make any needed changes to your plan at that time.
At this appointment, we will also answer a multitude of questions, such as: Is what we are doing working? Do we need to send the patient to a specialist? Do we need to alter the plan of care? Does the patient need further imaging done? You are an individual and so is the care that we will prescribe for you.
Contact Us Today!
We welcome runners, football players, basketball players, cheerleaders and anyone else who enjoys being active. Our practice is here to help guide you to the path to health and answer all your questions. Contact us today to learn more about the sports chiropractic Melbourne!

Sports Chiropractor Melbourne FL | (321) 339-8876